---
SUMMER OFFICE HOURS
Please note:
the church office will be open
Wednesday— Friday from 9:00am— 1:00pm
From July 5th through September 4th.
---
Scholarship Application
Prince of Peace Lutheran Church Scholarship Application
---
Wurffel Fund College Aid Available
Financial aid for college students is now available through the Karl, John, Elizabeth Wurffel Memorial Fund. The aid will be provided in the form of student loans. While the amount of funds available is limited, Lutheran students are encouraged to apply. Terms for the loans are very beneficial to the recipients. Eligibility is described as follows:
"Any member of a NJ Synod, ELCA, congregation planning to attend or enrolled in a matriculated program of study in an accredited 4-year or 2-year college or university may apply. Loans are for undergraduate study only.
Priority of consideration is given on the basis of activity in the life of the church as described by the recommendation letter of the applicant's pastor and on the basis of need. Priority is given first to students attending any ELCA Lutheran College or University, and then to any accredited 2-year or 4-year university."
Please contact the church office to obtain the application and letter of recommendation. Applications are also available in the Narthex. Applications must be postmarked no later than June 15,2016.
---
SHARED WORSHIP CELEBRATION PLANNED FOR AUGUST 13TH!
Please make every effort to join us at Good Shepherd Lutheran Church in Pearl River, NY as Prince of Peace and Good Shepherd partner for our first ever shared worship experience! Good Shepherd Lutheran Church is located at 112 North Main Street in Pearl River, NY. The worship service will begin at 9:30am this day. If you need assistance with transportation this day, please contact the church office. If you are unable to attend this service and would still like an opportunity to hear the word and receive the sacrament, please contact Pastor Holliday. He would be happy to provide worship at 5pm on Saturday, August 12th or to schedule a home communion visit with you. We look forward to this culmination of our week of Vacation Bible School and for the other opportunities that we will have for partnering in ministry in the time ahead!
---
SUMMER RECESS FOR SUNDAY FIRST WORSHIP
Our 9:00am spoken liturgy will pause following worship on July 9th. The liturgy will resume on September 13th.
---
Sunday School Teachers Needed!
Sunday School starts in September.
We are looking for adult leaders to assist with teaching. If you are interested in teaching our Sunday school children please contact Donna Pollock at donna.pollock2@gmail.com, Donna Schaefer or Pastor Holliday.
---
Pastor's Vacation
Please note that Pastor John Holliday will be on vacation from July 10th through July 31st. The Reverend Dr. Carol Brighton will preach and preside on July 16th & 23rd. Barbara Fitzgerald will preach and be the primary worship leader on July 30th. The Reverend Marc Stutzel of Christ Lutheran Church in Woodcliff Lake, NJ will provide for urgent pastoral needs between July 10th and July 20th. Pastor Stutzel can be reached at 201-391-4224. The Reverend Beate Storck of Trinity Lutheran Church in Tenafly, NJ will provide pastoral coverage between July 21st and July 31st. Pastor Storck can be reached at 201—568-8821.
---
Stewardship: It's Everything That Happens after We Say "I Believe!"
Look for these occasional reflections by Pastor Holliday about the many aspects of being a faithful Christian steward.
Have you ever wondered "where did the money go?" Sometimes we may not know. Like water through our fingers, money flows into our lives and the money flows out of our lives, but we may have little idea where it lands. Does the way we spend our money reflect our values? As people of faith, is our attitude about Jesus and his work in the world adequately reflected in our personal spending plans?
Developing a personal budget may help us to answer these important questions. Credit cards can help to track our personal spending and group expenses into categories. Software programs like Quicken can take data and organize it into reports so that those in your household have real numbers to answer important questions about money. Organizations alone are not the only ones who can benefit from timely financial information. Families also benefit when there is accurate knowledge about where the money goes that God provides to us through our efforts in his world.
Some of you may have heard of the 10-10-80 approach to budgeting. It's a basic goal that many Christians have used to manage the gift of money. What it suggests is that we share 10% of our income, save 10% of our income and spend the remaining 80%. It is certainly not a "one size fits all" approach. Everyone has different life circumstances and priorities. I have found, however, that being able to know where the money goes gives me a better opportunity to appreciate the financial resources that I have been entrusted, and to do my best to ensure that the money goes to those places that are a priority for me, my family and most importantly God. Money has spiritual power, and personal budgets are a way that God helps us to manage this power so that it does not overrun our lives. A budget is certainly something to talk about in the home, and pray about in your devotional life. It is a good tool for ensuring that Jesus stays number one in our lives, and that we get the most from the money that God entrusts to us for supporting our lives!
---
You can help us promote Prince of Peace
Hello everyone!
I've been asked to reboot/relaunch/invigorate our promotion efforts here at Prince of Peace - spread the word about what we do and what we offer, with the ultimate goal of the congregation growing in size and also growing in involvement.
You can help with our outreach efforts - please "LIKE" our official Prince of Peace Facebook page, and check back with us regularly to read our news and events.
If you read an item on our Facebook page, please SHARE it with your friends. Social media doesn't work unless our network grows. So start spreadin' the news about POP - it's easy!
---
POP Coupon Swap Club
I'd like to start a coupon swap club. We all get coupons in the mail, flyers, newspaper ads. Coupons for products we don't use, or restaurants we may not frequent. It's been awhile since I've needed diaper coupons, but someone else might benefit. Let's start up a POP Coupon Swap Club. I'll start us off by bringing in a small box of coupons we can't use in the Lewis home, from manufacturers, restaurants, etc. come and browse through the box, and drop off some of your own unused coupons. The box will be clearly labeled. This is an exchange, so to get-you've got the give! I will periodically go through the box and cull any that have expired. Let's give this a try, and save a little money to boot.
Thanks!
Mike Lewis
---
Social Action News
-
By Evelyn Passante
Thank you Old Tappan Cub Scout Pack 132 and POP Pre- School
Holy cow!  So far, we have collected over $4000 for the World Hunger Appeal as evidenced by 8 colorful cows on our front lawn!  Cub Scout Pack 132 donated $500 and the POP Preschool donated money towards a cow.  These wonderful children will be decorating their cows and placing them on our front lawns.
From July 15- 16, POP will be staying over-night and serving breakfast, lunch and dinner for some homeless families at Our Lady of Mercy Church in Park Ridge.  This is done through Family Promise.
During the month of June, Prince of Peace gave gift cards, paper products, and food to the Old Tappan food pantry. Now in the summer, we'll give Shop Rite gift cards, paper products, laundry and dish detergent, and food to the Center for Food Action and to Legacy X.  Please remember the food pantries desperately need your donations during the summer months.  If you have any questions, contact Evelyn Passante at 201-768-0355 or email her at EvelynPassante@aol.com
---
STEWARDSHIP
It's Stewardship time! That is, it's that time of year when we try to understand and respond to God's expectations of us as stewards and when we reflect on what our church, Prince of Peace, means to us. When we come together at Prince of Peace to hear God's word, to share the sacraments and to worship God with joy and thanksgiving, we are strengthened and blessed. At the same time, we need to examine prayerfully what we can give back to the Lord. Out of love for God, we give, and as we grow in love toward God, so, too, we want to grow in our commitment to our church.
Pledging is an opportunity for us to commit some of our gifts to God. We pledge of our time, of our abilities, and of our money as an expression of our love to God and of our commitment to following His ways.
I would ask all of you to prayerfully consider how you can best share your gifts with God and complete a pledge card and return it to Prince of Peace either via mail or in the collection. Pledge cards are available in the Narthex.
---
Pictures of Peace
Preschool "Messy Day"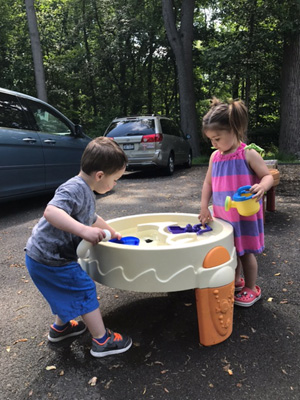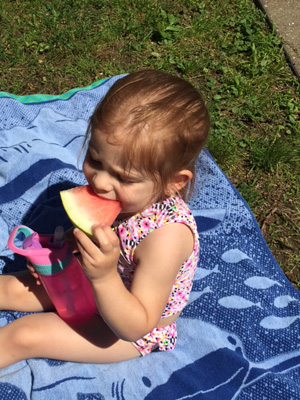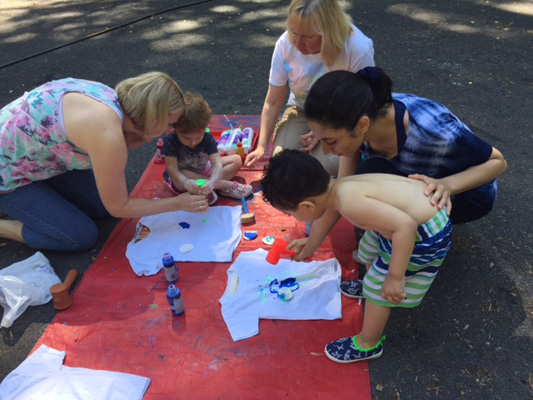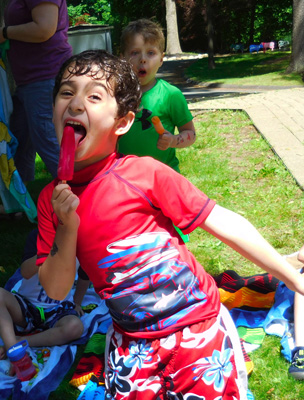 Preschool Class Trip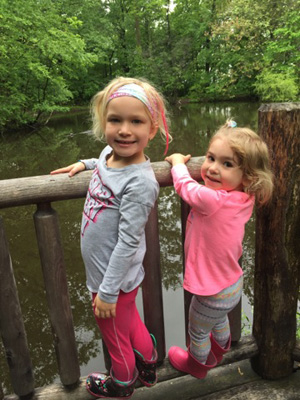 Rite of Confirmation - June 4, 2017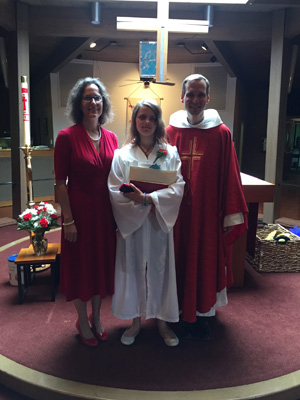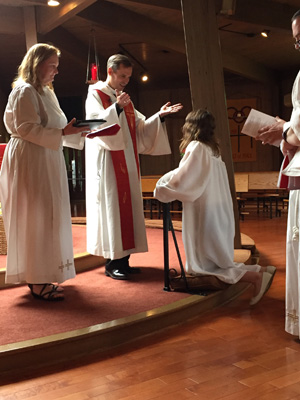 ---
Learn Sarver Heart Center's Continuous Chest Compression CPR

Every three days, more Americans die from sudden cardiac arrest than the number who died in the 9-11 attacks. You can lessen this recurring loss by learning Continuous Chest Compression CPR, a hands-only CPR method that doubles a person's chance of surviving cardiac arrest. It's easy and does not require mouth-to-mouth contact, making it more likely bystanders will try to help, and it was developed at the University of Arizona College of Medicine.


---
Attention POP Musicians!
Mix It Up With Moses, Jam With Jesus, Or Just Play While You Play... Prince of Peace is still looking for people to join the Band of Peace! If you are interested, please contact Pastor Holliday or Barbara Fitzgerald.


---
Want To Learn To Knit, Or Renew Your Love Of Knitting?
Prayer Shawl Ministry is open to anyone interested in this art --youngsters, teenagers, adults of all ages.

Prayer Shawl Ministry will continue to meet over the summer on Mondays at 10:00 am. You are most welcome to join us for an hour and a half of handwork and fellowship!

For more information contact Doris Baumann at (845)359-5311.

---
Prince of Peace Preschool Site Online!
Special thanks to Arp Laszlo and Joann Kitlas for putting this informational site together! Click the logo below to check it out...



---